'Clear, easy to use and comprehensive.' Ken Bradley, U.K.
Learn Speak Thai courses are the most effective way for you to learn to speak Thai with the correct pronunciation. All courses feature a proven system of learning that guarantee your Thai speaking success:

1) Excellent course and lesson content. Learn Speak Thai courses teach you the essential grammar and language know-how for you to speak confidently across a whole range of other everyday conversation situations. The lessons are designed to keep learners motivated from start to finish by means of highly relevant content, interesting language and culture insight, photographic backdrops on all audio visual material showing fascinating aspects of Thai life, and humorous illustrations. This helps make your learning fast, fun and interesting.
2) High quality audio of all words and phrases in the course by a native Thai speaker. Using the Learn Speak Thai 'See, hear, speak' system you learn how to say all words with the correct pronunciation and tone. You see the word, hear the word, speak the word. The online courses have clickable audio text and audio visual slideshows; the book + DVD courses feature all the words and phrases on audio slideshows. There is no better or effective way to learn correct Thai pronunciation.
3) Interactive flash card games and exercises that help you learn lesson content in a fast, fun way. The online courses feature matching word card games and audio flash card games for all words and phrases in the course. The Book with DVD courses contain check your learning exercises at the end of each chapter. Both help you learn fast.
These 3 core elements make up the Learn Speak Thai cycle of learning. It is the most effective way to learn Thai.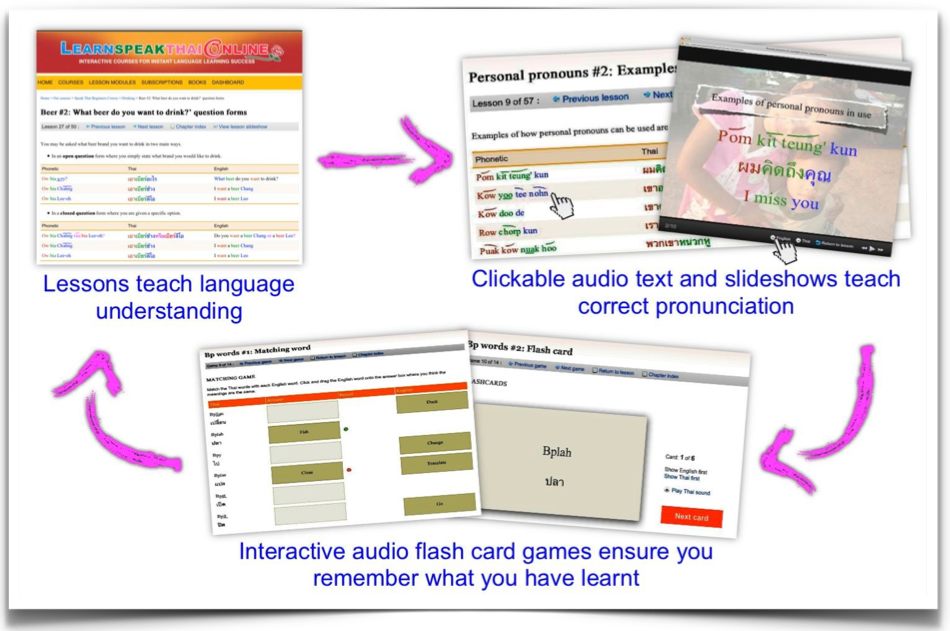 No other Thai language course has this proven system of learning Thai in a fast, fun, easy and interesting way.
Play this short video below to see how our courses can help you learn Thai.

Click text below images to get more details on the individual aspects of our courses.
The best guarantee for Thai learning success
----------------------